At eCORRECTOR we carefully select our academic PhD-level proofreaders (now over 100 English native speakers). We ensure your text is proofread by an expert in the relevant field so that the scientific integrity of the text is maintained and the language is significantly improved. We have a strong track-record and have helped hundreds of scientists publish their work in internationally peer-reviewed journals.
Our mission statement: to provide language support to academics, whose first language is not English, and to break down any language barriers so that the results speak for themselves."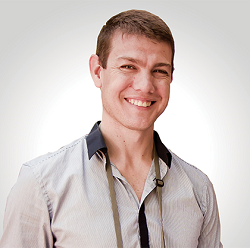 Mark J Hunt, PhD, Hab.
Founder
Overseas our network of over 100 PhD specialist proofreaders


BSc (Pharmacology) King's College London

PhD (Pharmacology) Trinity College, University of Cambridge


Assistant Professor, M. Nencki – Polish Academy of Sciences

15 years experience in scientific proofreading



Head of Scientific Proofreading
Our Head of Scientific Proofreading, Mark J Hunt, received his PhD from the University of Cambridge, UK and has published over 20 academic papers and regularly serves as a reviewer for international journals. He has over 15 years' experience proofreading manuscripts and is well aware of the standards expected by editors and reviewers when evaluating submitted manuscripts.
Mark quality controls our network of over 100 qualified English native speaker proofreaders. We only work with proofreaders who have met our strict standard of both academic and linguistic excellence. All of our expert native speakers are recognised scientists in their field with publishing experience. They know the high linguistic demands which are put on scientists before their text is accepted for publication.

Our proofreaders hold PhDs in areas directly related to the content of the text. Some of our most frequently requested areas of science include:
Biomedical Science (molecular and cell biology, molecular therapeutics, biochemistry, pharmacology, immunology, genetics, neuroscience, microbiology)
Clinical studies (medicine, psychology, emerging infectious diseases)
Ecology (environmental science, botany, wildlife and fisheries)
Engineering (industrial, civil, chemical and bioengineering)
Chemistry (organic, materials and chemical engineering)
Physics, mathematics and geology
Many of our medical proofreaders are qualified Doctors of Medicine (Bachelor of Medicine and Bachelor of Surgery)
We also provide proofreading of manuscripts in other academic areas such as history, philosophy, sociology and management. Our Expert Proofreaders in Numbers
published papers in peer reviewed journals
Our mission is to break down any language barriers so that the results speak for themselves. We provide not only thorough proofreading service but as well with our team of experts PhD native speakers we created series of scientific writing guides for particular areas of science.
How our team of expert native speakers works?

Individual approach
All manuscripts are treated individually. We assess each manuscript on an individual basis to determine which proofreader (subject matter expert) is best suited to proofread the text.
Head of Scientific Proofreading
Once proofreading is complete, the final text is approved by our Head of Scientific Proofreading with any further changes or comments added at this stage.
Track-changes version
A track-changes version (changes highlighted) and a final version (ready-to-go) of the manuscript is sent back to the author, along with any comments which were raised at the proofreading stage.
Cover letter support
If the author has any queries concerning the cover letter and would like to have it proofread, they may contact us directly and our expert native speaker will support them.
Questions
If the author of the text has questions concerning correction or needs additional clarification from the specialist proofreader, we are available for a direct contact.
Our expert proofreaders are native speakers of English who hold PhDs awarded from internationally-renowned Universities. The vast majority of our proofreaders are active researchers, have published their research and are experienced editing and proofreading academic papers.

Join us!
If you are a native speaker of English, hold a PhD (or equivalent, e.g. Doctor of Medicine) and are interested to join our network of expert proofreaders please send your CV with a list of publications and details of your proofreading experience.