Since 2013, eCORRECTOR has been successfully providing native English PhD proofreading and editing for an increasing number of authors. We provide language support for researchers who want to publish their findings in international peer-reviewed journals. We would like to share with you the feedback on the voluntary follow-up questionnaire (117 authors) conducted among our academic partners over the last 3 years.
Contact with our team
We always aim to provide a professional and pleasant experience when authors contact our front desk. We know that working on a scientific publication is a challenge and we want to help all scientist achieve their goals. We establish clear and transparent terms of cooperation and maintain efficient communication as shown by the ?contact with the team? score of 4.95 out of 5.
Recommending our services
We want to see as many of our authors publish in high-level journals as possible. Members of our team and our network of PhD proofreaders and editors are also active researchers who fully understand the importance of this goal. We hope that all cooperating authors share and recommend their positive experience of using our service, as suggested by the high percentage of responders (93%) who would recommend us to others.
Quality-to-price ratio
We try to keep the costs competitive and still maintain a high quality of service. PhD level editing and proofreading by experts is more expensive than a similar service provided by non-specialists. Our authors recognize the difference that only an experienced professional can properly tend to an academic text and awarded us a score of 4.63 out of 5.
We listen to our authors
Over the past 2 years, we have responded to the needs and requests of our authors by introducing specific services to cater to their needs. A recent example involves a LaTeX service introduced for physicists, engineers and mathematicians in 2019 where our authors receive ready-to-go file .tex files. In 2020, based on feedback by some authors for lighter textual changes, we introduced separate PhD proofreading and PhD editing services.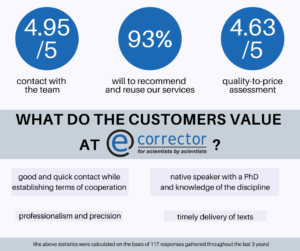 Feedback is extremely important to ensure that eCORRECTOR continues to provide the high standard of service required by scientific authors. If you have suggestions about potential new services or facilitating the existing processes, please let us know. We will gladly listen to your arguments and try to implement the suggestions to provide the best possible support to Polish scientists.